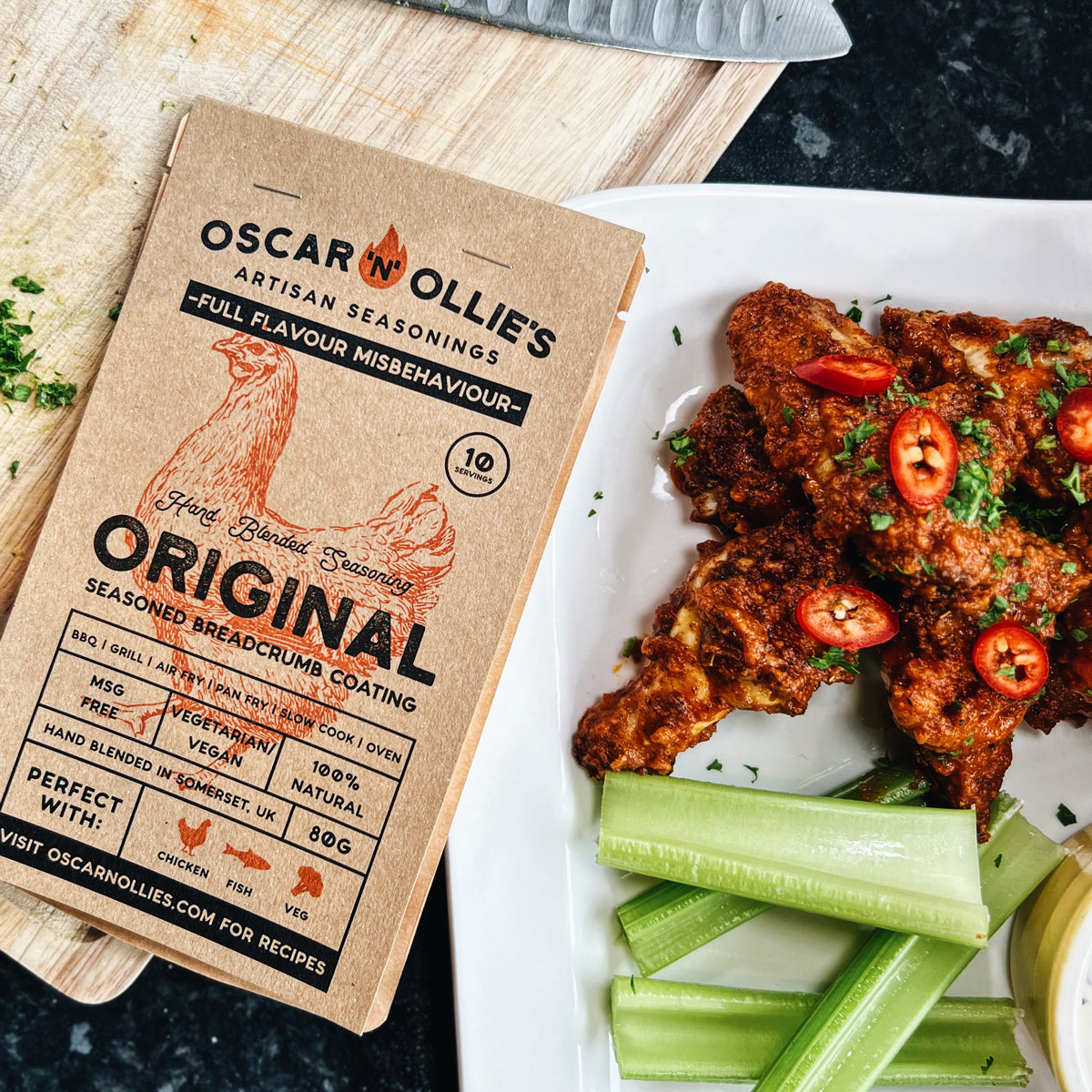 BUFFALO HOT WINGS
Now this is a big statement, but we are sure you'll agree they are simply the best. Steve, the founder of Oscar 'n' Ollie's declares that this is by far one of his favourite foods and always tries to find better buffalo wings when traveling in America or Canada… so far, he hasn't succeeded!
INGREDIENTS

Chicken wings
Buttermilk
Oscar 'n' Ollie's Original Coating
Sunflower Oil
Unsalted Butter
Buffalo Hot Wing Sauce (We recommend Sauce Shop Buffalo Sauce)
Blue Cheese Dressing
Sesame Seeds
Black Onion Seeds

METHOD

First up, Place 6-8 per person wings in a large bowl, completely drench them in buttermilk. and mix well
Cover the bowl in cling film and place in the fridge for a few hours (overnight is best) When you are ready to coat them, place your Oscar 'n' Ollie's Original Coating in a large bowl
One wing at a time, shake off excess buttermilk and place it in the seasoning, give a it a roll around until it is completely coated and press the coating firmly onto the chicken
Now place it onto a plate or baking try while you coat the rest of the wings
Give the coated wings a light spray of sunflower oil on all sides
Choose your method of cooking and bang it in. We suggest air frying on 200c for around 10-12 minutes or oven cooking on 180c for around 20 minutes
While the wings are cooking, place around 20g unsalted butter in a saucepan and gently melt
Add approx. 100ml of buffalo hot wing sauce and mix with the butter whilst warming
Once the wings are cooked, place them in a large bowl and cover them with the buffalo sauce and gently turn them until all wings are completely coated
Finally, plate up the coated wings and drizzle with blue cheese dressing and sprinkle over some sesame seeds and black onion seeds…boom you have a winner, winner buffalo hot wing dinner!